Jean-Michel Adrien
Biography | Genres | Bibliography | Contact Details
Biography
Jean-Michel Adrien was born in France and grew up in Senegal (West Africa) where he lived until the age of seventeen. He did his undergraduate studies in International Business in Bordeaux, France, before receiving his MBA from the American Graduate School of International Management in Glendale, Arizona.
For the past twenty-five years, he has traveled significantly throughout the world for business being introduced to many new cultures and people. But it is the Peruvian people who inspired him in the writing of his first novel,Les Enfants de Païta. distributed by Thélès Publishing. He currently lives in Sunriver, Oregon, (when he is not traveling) and is busy working on his next book.
Since March 2003 by appointment from the Prime Minister, he has served as a foreign trade advisor to the French Government. One of his principal duties in this position is to promote the French culture and language.
Jean-Michel Adrien is also a private pilot.
Genres
Fiction
Bibliography
Les Enfants de Païta , Thélès Publishing, 2007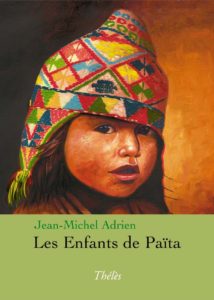 Buy books by Jean-Michel Adrien at Amazon.fr or directly from Thélès Publishing (French site)
Contact details
jeanmichel@jeanmicheladrien.com
Publisher (General enquiries)
Thélès Publishing
11, Rue Martel
75010 Paris